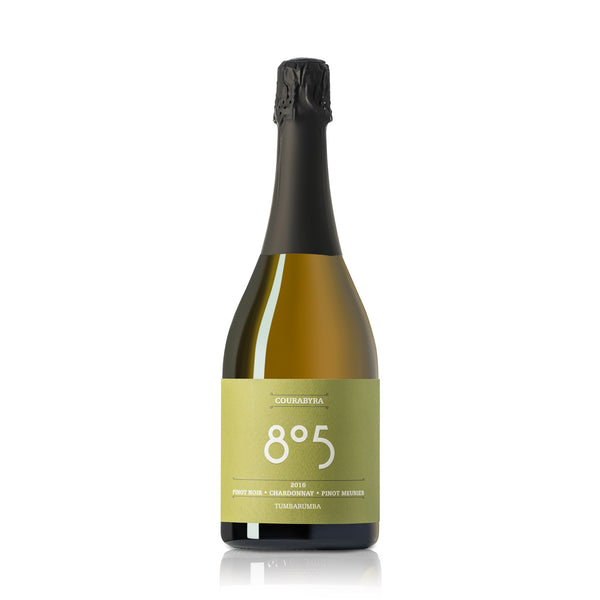 5 Star rating from The Real Review
Huon Hooke 96pt
This single vineyard sparkling wine was produced from Courabyra vineyard. The vineyard has an altitude of 730 meters with western facing slopes which provides good air drainage. The soils consist of decomposed granite and the vineyard has an abundant water supply.
The property is fully maintained by hand, the Pinot Noir and Pinot Meunier and Chardonnay vines are all cane pruned. The canopy is manipulated throughout the season, depending on weather conditions to allow dappled light which assists in the development of fine fruit flavours.

The 805 Vintage Brut 2016 is a blend of Pinot Noir, Pinot Meunier & Chardonnay varieties. Parcels of fruit from all three varieties were selected to obtain a well-balanced wine which is made in the traditional champenoise method.
The sparkling wine base was put through a full malolactic fermentation then bottled using the traditional method. The wines were individually barrel fermented before blending and have spent 5.5 years on Lees.
This is a beautifully developed wine expressing the complexity of the Tumbarumba terrior.
Expressing colour of deep straw with bright golden hues, while the bouquet has complex notes of buttered toast and mushroom brioche. Palate has subtle flavours of honey and mushroom and complimented by the supple backbone of acid and tannins supporting this flavoursome wine. This wine has a rich elegance, creamy in texture with citrus and stone fruit flavours and a crisp clean finish.